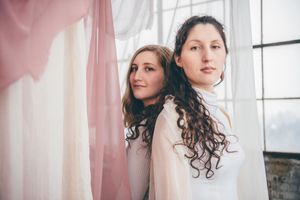 BIO 
The Lifers, led by sisters Liv and Anita Cazzola, are an art-folk/rock collective from Guelph, Ontario. Their intertwined voices dynamically convey vulnerability and strength. Softly plucked strings, accordion swells, and lush cello and upright bass arrangements give way to rip-roaring drums, soaring melodies and overdriven frenetic strums. Their stories juxtapose tenderness and explosive energy, sometimes within a single breath. The Lifers explore notions of home, family and community, highlighting the beauty, vulnerability and power of nature, challenging both genre and audience. 
With influences like Feist, Dan Mangan and The Staves, The Lifers have released LP "Honey Suite" (2018), LP "Out and In" (2016) and EP "Set the Sails" (2014). Their work on Honey Suite garnered The Lifers a nomination for Emerging Artist of the Year through the Canadian Folk Music Awards in 2018. Whether in an intimate duo arrangement or with the thunderous six-piece band, The Lifers have been an unexpected gem at festivals such as Hillside and Summerfolk (2016, 2018), on Canada's East (2015, 2017, 2018, 2019) and West (2015) Coasts, and in listening rooms and on radio waves around Southern Ontario.  
The Lifers released their sophomore album Honey Suite in May, 2018. Their new material is more personal than ever, touching on themes of place, sisterhood, mental health, and environment. To contribute to the push towards a sustainable and equitable future, 75% of the album collaborators are female-identifying, 85% are under 30, and their activities and process reflects their mindfulness and research on how each activity impacts the environment. They toured the album across Ontario, the East Coast, USA and Europe last spring/summer, and have since returned to the Maritimes in Winter 2019.  They are making their way through Ontario again this spring and summer with renewed energy and grounded intentions for positive communal growth.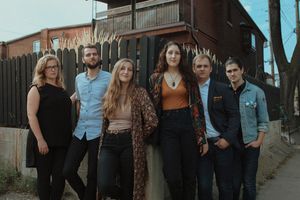 M E M B E R S 
Anita Cazzola - Vocals, Acoustic & Electric Guitar 
Liv Cazzola - Vocals, Accordion, Ukelele, Organelle 
Jillian Sauerteig - Cello, Vocals 
Sam Boer - Percussion, Vocals 
Braden Phelan - Electric Guitar 
Sam Fitzpatrick - Bass